Harmonize land laws to ease title registration
26 September 2018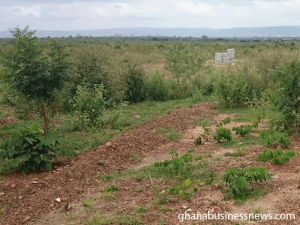 Mr Stephen Oduro-Kwarteng, Ashanti Regional Director of the Lands Commission, has called for harmonization of the country's land laws to ease the process of land title registration.
Reforms to bring all the fragmented laws together would not only help the people to understand the land tenure system, but ensure transparency and accountability in the land administration system.
Mr. Oduro-Kwarteng was speaking at a land forum for multi-stakeholders on the "land and corruption in Africa project", in Kumasi It was organized by the Ghana Integrity Initiative (GII) under the "Integrity, Mobilization, Participation, Accountability, Anti-Corruption and Transparency (IMPACT) Project", with funding from the German Federal Ministry.
The IMPACT project aims at empowering the people to contribute to the fight against corruption by helping to promote and increase integrity, transparency and accountability of public institutions and businesses in the land sector.
It is also to build the capacity of civil society groups to advocate for changes in policies and practices in the land administration system.  Mr. Oduro-Kwarteng said although the government through the land sector reforms project, had been able to bring all the various land agencies together, there was still the need to review the laws to make it easier for people to acquire and register their lands.
He announced that the Lands Commission had set up a Clients' Service Access Unit (CSAU), to sanitize the land administration processes by eliminating staff involvement and land agents. It was also meant to help remove delays in the processing of land title registration, improve transparency at the Commission and ensure efficient records management.
The CSAU had brought down corrupt practices and boosted the revenue of the Commission by 40 per cent. At the same time it had assisted to improve the handling of general property files and tracking of state and client status files.
He appealed to chiefs to keep records of lands allocated to individuals to avoid multiple land sales.Surveyors should also reduce their charges to aid smooth documentation of land titles, he added.
Mr. Michael Okine, Coordinator of the GII "The land and corruption in Africa project" said the vison was to fight corruption and promote accountability and integrity in land administration in Ghana.