Pressure mounts on gov't to lay RTI bill; fight taken to the streets
19 March 2018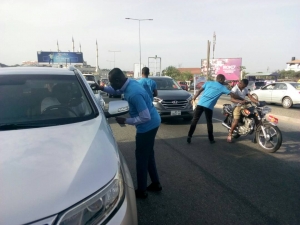 A group of campaigners have hit the streets of Accra distributing flyers as part of campaigns pushing for the Right To Information bill to be laid before Parliament.
The campaign is part of efforts by the Right to Information Coalition to ensure the bill, which has been in and out of Parliament since 2003, is passed. The coalition last week asked government fulfil the President's promise and lay the bill before the House before Parliament goes on recess.
Five days before Parliament rises, it remains unclear if the bill will be laid.
Source: http://myjoyonline.com/politics/2018/March-19th/coalition-fight-to-get-rti-bill-passed-hits-the-streets.php