RTI Coalition charges Akufo-Addo to redeem promise
14 March 2018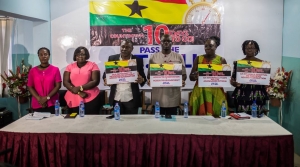 The Right to Information Coalition (RTI) is displeased with the repeated broken promises regarding the passage of the Freedom of Information Bill.
The group said the failure to pass the Bill is not just an infringement on the "constitutional democratic and human rights" of Ghanaians but an injury to the country's democracy.
This year marks 22 years since the first draft of the RTI Bill was made under the supervision of governance think-tank, Institute of Economic Affairs (IEA).
The document went through series of reviews in 2003, 2005 and 2007 before finding a temporary home in Parliament on February 5, 2010.
It has since been in and out of the House.
Following the mounting public anger over the Bill, both the then governing National Democratic Congress (NDC) and opposition New Patriotic Party promised to pass it in the lead up to the 2016 general elections.
One-year into the four-year term of the NPP government, there is no sign of the Bill in Parliament despite the promises by Vice-president Dr Mahamudu Bawumia and Information Minister Mustapha Hamid that the Bill will be passed into law.
President Nana Addo Dankwa Akufo-Addo renewed his pledge to see the RTI Bill passed into law before the end of the year.
"After many years of hesitation, we intend to bring a Bill again to Parliament and work to get it passed into law before Parliament rises," he said in his speech at Ghana's 61st independence celebration last Tuesday.
Re-echoing a comment by the president in his inaugural speech, the RTI Coalition said it will no longer remain a spectator on the matter going forward.
"The campaign group can no longer fold our arms and wait for the government…we are here to begin the process of claiming our birthrights," member of the group, Samson Anyenini Lardy said.
The private legal practitioner said the passage of the RTI Bill into law is non-negotiable because it is a democratic imperative that safeguards the rights of Ghanaians.
"Our democracy is meaningless without a clear legislation to regulate actions of government," Mr Anyenini Lardy stressed the importance of the Bill.
Source: https://www.myjoyonline.com/news/2018/March-14th/rti-coalition-charges-akufo-addo-to-redeem-promise.php