The Hypocrisy Behind State Institutions Mandated to Fighting Corruption
3 April 2018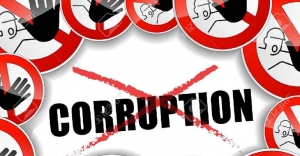 How many investigative journalists do we have in Ghana? How many of them are bold enough to show their faces to prove their real identity? Even Africa's most decorated investigative journalist, Anas Aremeyaw Anas does not do that.
This is because of the high risk involved in this kind of journalism. It is important to share this life experience after four years of practicing as a freelance journalist, specializing on investigative journalism.
When a journalist uses his own resources and risks his life to go undercover to expose corrupt acts and officials, state institutions who are directly or indirectly involved in the fight against corruption must immediately act after their attention is drawn to them.
When it is proven beyond every reasonable doubts that indeed corruption occurred, the people involved must be punished as the law requires. This will deter others from doing same.
However, when these institutions fail to take action, and the perceived culprits keep monitoring your movement, it puts your security at risk.
This is the central idea of more than five investigative stories I have done. I have never admitted to being in a wrong profession, but I admit to being in a wrong country whose state institutions are themselves highly corrupt, dormant and hypocrites. The following are some of them I have dealt with directly.
The first is the Ghana Health services (GHS). On Wednesday, 5th October, 2016, the New Crusading Guide Newspaper published a leading story titled "Rot at Amasaman Hospital Uncovered! Over 10,000 patients folders recycled and sold".
This is a story where the hospital made more than Gh50,000 by destroying patients records in their folders, rebranded and sold them to new patients who attended to the facility. This practice, according to the GHS and the Department of archives was against the 2015 retention policy of the GHS, and therefore illegal.
I met with some top officials of the GHS in April 2017 and later followed it up with a letter (EMS) addressed to the a Deputy Director General of the GHS dated 22nd May, 2017. The honest response from one of the officials during the meeting was that they don't buy the newspaper and that was why they haven't heard it.
They stated that the case would be forwarded to the Greater Accra Regional Office for investigations to be done then keep me posted.
After a year, the GHS failed to carry out any investigations, failed to keep me posted and failed to answer any of my calls.
Aside this, I met with then Public Relations Officer of the Ministry of Health, Mr Tony Goodman on 5th October, 2017. He got a copy of the story, promised to forward it to the sector minister but failed.
Recently, the Electoral Commission (EC) has been bedevilled with some corruption allegations. I have concrete evidence to state emphatically that the EC is corrupt and Mr. Kofi Dzakpasu, head of communications at the EC is aware.
I forwarded some videos and link to him in October 2017. In the videos, some EC staff, including those at its Head office at Ridge, Accra have been collecting unofficial money ranging from Ghc30 to Ghc50 per person when a prospective voter had misplaced his Voter Identity (ID) card and wished to have a new card.
And within few days or months, it's office at Kasoa in the Central Region could get more Ghc20,000 from this practice. It was petty, but bigger corruption in nature.
When contacted, Mr. Dzakpasu responded "may be I am having some challenges getting your videos but it is all that I got. And it doesn't tell me much about what you are alluding to and alleging".
"All the same we are going to study it and revert. I am very eager and anxious to get to the bottom and unravel this thing so if there are some more videos that I have not gotten please forward them to me", he noted.
When new evidence was sent to him via WhatsApp, he reacted with the surprise emoji and added "Huh"?
"I have submitted to the Commission. The Commission will study it. Those involved will be invited for their side of the story and an investigation must be made. This is a serious allegation and as such we need to follow due process and those involved have the right to be heard", he stated.
The most fascinating thing about Mr Dzakpasu is that when Joy FM's Corruption Watch aired and discussed the story on 10th January, 2018, he made the same comments the following day when he was interviewed.
After six months, the EC has failed to act on it and Mr. Dzakpasu has failed to answer my calls. He can never deny.
Finally, one would expect that a constitutionally mandated state institution, - the Commission on Human Rights and Administrative Justice (CHRAJ), will be the last resort when I feel threatened. However, my recent and first dealing with them has never been different from that of the aforementioned state institutions.
After I finished investigating "petty corruption at the Electoral Commission", I submitted my footages to the Tiger Eye Foundation and Klarity (anti- corruption campaigners). These groups forwarded my evidences and complaint to the Ghana Integrity Initiative (GII) and it was subsequently sent to CHRAJ on 17th December, 2017.
I met with CHRAJ on 25th January, 2018. I discussed my evidences with them and gave them copies of my videos and receipt. They promised to to do their own investigations and give me a copy of their report soon.
The last time I communicated with CHRAJ on this story was after leaving their office, same day I met with them. Since then, they have refused to answer my calls. They can never deny. However, I gave their number to a colleague and the person answered the call.
If this is the kind of state institutions we have, then I am afraid.
By Dundas Whigham
Freelance Investigative Journalist,
Accra
Source: Modern Ghana
Url: https://www.modernghana.com/news/845397/the-hypocrisy-behind-state-institutions-mandated-to-fighting.html