Charlotte Osei, two others removed
28 June 2018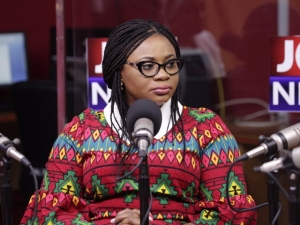 The President Nana Akufo-Addo has removed the Electoral Commissioner Charlotte Osei and her two deputies from office for "misbehaviour and incompetence."
The removal is on the recommendation of a committee set up by the Chief Justice Sophia Akuffo to investigate alleged acts of corruption, misconduct and misbehaviour by the three commissioners.
The two other commissioners are Amadu Sulley and Ms Georgina Opoku Amankwaa.
Photo:
A statement signed by the Minister of Information Mustapha Hamid said the committee "recommended the removal on the basis of stated misbehaviour and incompetence, pursuant to Article  146 (1) of the Constitution."
Mrs Osei, 49, was removed on her third anniversary as chair of the Electoral Commission. She was appointed on June 25, 2015.
Her two other Deputies, Amadu Sulley and Ms Georgina Opoku Amakwaa were appointed in May 2012 and July 2013 respectively.
The three had presided over the organization of a relatively smooth and peaceful election 2016 but incidents after it have been anything but impressive.
There have been accusations and counter-accusations between the three top Commissioners shortly after the election.
Source: MyJoyOnline