#Number12: Politicians, GFA officials, referees named in Anas exposé
6 June 2018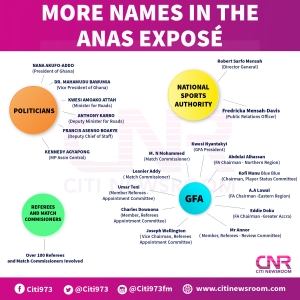 Despite being initially conceived as a covert look into the dark side of Ghana football,  Anas' #Number12 documentary appears to have shaken a lot more than the country's most popular sport.
Today's premiere at the packed Accra International Conference Centre (AICC) saw thousands of people attend each screening to view firsthand, the perceived gross underbelly of football in the country.
In the weeks preceding the first showing, several names had been reported as having been mentioned in the two-hour video, including the President, Nana Akufo-Addo.
A number of other senior officials of both the government and the Ghana Football Association (GFA) – most notably, Kwesi Nyantakyi had also been mentioned, with several of allegations of corruption levelled against them.
However, until Wednesday's premiere, the exact scope of the investigation by journalist Anas Aremeyaw Anas and his TigerEye PI team was not completely clear.
The exposé roped in political figures, referees and officials of both the GFA and the National Sports Authority.
Some high profile figures who were named by GFA boss Nyantakyi include Vice President, Dr Mahamudu Bawumia, Deputy Roads Minister, Anthony Karbo, and MP for Assin Central and Anas' biggest critic over the last few days, Kennedy Agyapong.
In the video, Nyantakyi, in an interaction with persons he believed to be investors, quoted several sums of money to be given to those political figures and himself in order to facilitate the deal.
There were also a number of cases of referees being bribed to take decisions which would sway Ghana Premier League games in favour of one side.