NATIONAL ANTI-CORRUPTION AND TRANSPARENCY WEEK
4 December 2017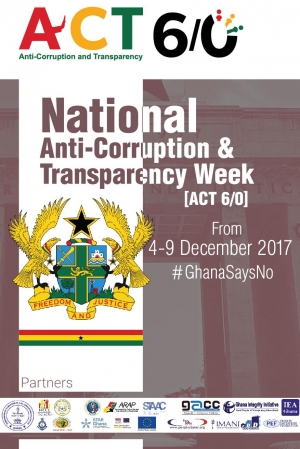 NATIONAL ANTI-CORRUPTION & TRANSPARENCY WEEK (4 - 9 DECEMBER 2017)
COLLABORATIVE STAKEHOLDER EFFORTS
To mark the 2017 UN World Anti-Corruption Day, Stakeholders working toward anti-corruption in Ghana are collaborating to
implement a Anti-Corruption & Transparency Week celebration dabbed [ACT 6/0] from 4-9 December 2017. It is under the theme,
"NACAP: STRENGTHENING PUBLIC, PRIVATE, AND CIVIL SOCIETY PARTNERSHIP IN THE FIGHT AGAINST CORRUPTION.

The Anti-Corruption & Transparency Week is a collaborative effort between 

the Government of Ghana, CHRAJ, Judicial Service, AG's
Offce, NCCE, EOCO, National African Peer Review Mechanism (NAPRM), the Ghana Anti-Corruption Coalition (GACC) [comprising
CHRAJ, EOCO, AG's Dept, PEF, GII, IEA, CDDGhana, GJA, and GCRP], IMANI, Penplusbytes, EU-ARAP, Star Ghana, US Embassy, STAAC,
among others".
#GhanaSaysNo