Corruption: Nothing wrong with Akufo-Addo defending his team – GII
18 January 2018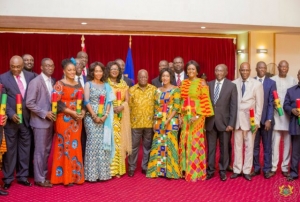 President Akufo-Addo is justified in defending his team over corruption allegations, the Ghana Integrity Initiative has said.
The President told journalists at the Flagstaff  on Wednesday that, his appointees are not corrupt because all allegations against them have failed to stand the test of scrutiny.
According to him, from the allegations against the Minister for Energy-designate at his parliamentary confirmation hearings; to that against the CEO of BOST; to those against the two deputy Chiefs of Staff; to the claims of extortion against the Trade Minister; and to those against the Minister for Special Development Initiatives; all of these have been investigated and no evidence has been adduced to suggest mildly the perpetration of any act of corruption.
"My appointees are not corrupt. I have a greater interest in my appointees not being corrupt than any critic could possibly have. Try me. Produce the evidence to back the allegation, and see what the reaction will be," he said.
However, the executive director of the GII Linda Ofori-Kwafo said the president was just being confident in his appointees.
Everybody is entitled to an opinion on a matter. I am sure the President wanted to say he is confident in the team he works with and that is why he said his appointees are not corrupt. I believe that any allegation of corruption should have a chance of being investigated. The BOST issue among others can be further investigated by the Special Prosecutor if he'll want to look at it," she told Accra based Starr Fm.
She however urged Ghanaians not to be confused about the role of the special prosecutor.
"The office of the Special Prosecutor is not to just arrest people but to also do necessary investigations. We are very much interested in what the office of the Special Prosecutor will be able to do".
Also contributing to the discussion, a senior Research Fellow at CDD Dr. Kojo Asante commended the President for his interest in the procurement process.
"The President's statistics on procurement has been a plus. We have to dig into the data to make sure we are getting value for money"