African Union Day against Corruption
11 July 2018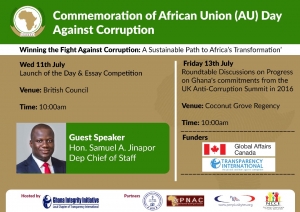 African Union Day Against Corruption
Ghana Integrity Initiative (GII) in collaboration with Commission for Human Rights and Administrative Justice (CHRAJ) and other partners including African Parliamentarians Network against Corruption (APNAC) and National Commission for Civic Education (NCCE) are holding a series of activities to observe 2018's African Union (JULY 11) Day against Corruption.
The various activities will center on the AU agreed theme:
"WINNING THE FIGHT AGAINST CORRUPTION: A SUSTAINABLE PATH TO AFRICA'S TRANSFORMATION"
The activities include:
1. Launch the AU Anti-Corruption Year and Day and the planned activities in Ghana.

2. A round-table discussion to examine the status of Ghana's commitments made at the UK Anti-Corruption Summit, 2016.

3. Launch and organize an essay competition on the theme.

4. Organize varied media events on the theme and press briefing on TI Africa's position on corruption in Africa.
 
Details of the program will be shared in due course