Criminalised Unexplained Wealth Possession In Ghana- CHRAJ
9 December 2018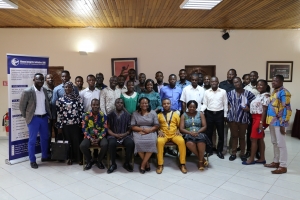 In Africa corruption has been the major challenge impeding socio-economic growth over the years; since the menace affects foreign and domestic investment.
 The African Union (AU) recognising the negative impact of corruption on society adopted a convention in 2005 with many members adopting it as the main framework to guide members in their efforts to combatting the canker.
 That is the Africa Union Convention on Preventing and Combatting Corruption (AUCPCC).
Although, Member States are bound by the AUCPCC, corruption on the continent remains a challenge hampering economic growth in Africa.  
 Ghana Integrity Initiative (GII), recently conducted an analysis of the of the Ghana's compliance to the AUCPCC which formed part of a cross-regional project by selected Transparency International (TI) chapters in Africa titled, 'Towards Enforcement of Africa's Commitments to Anti-Corruption: Civil Society engagement within the 2018 African Year of Anti- Corruption'.
The objective of the project is to equip anti-corruption activists to engage with information relating to the African Union Convention on Preventing and Combatting Corruption (AUCPCC) so as to facilitate deeper engagement with African governments on their commitments against corruption during this "African Anti-Corruption Year" and beyond.
Presenting a gap analysis report on the African Union Convention on Preventing and Combatting Corruption (AUCPCC) at a workshop organised by the Ghana Integrity Initiative (GII) in Accra, Mr. Charles Ayamdoo said Ghana ratified the AUCPCC on 27th June 2007.
According to him, the study covered selected articles related to Money Laundering, Illicit enrichment, Funding of political parties, Civil society and Media, Code of conduct and assets declaration, Confiscation and Seizure of proceeds and instrumentalities of corruption.
Touching on Illicit enrichment, Mr Ayamdoo, noted that the existing legislative and measures indicate that illicit enrichment and conflict of interest have not yet been established as offences.
" Though Ghana has not established illicit enrichment as  corruption offence as the first option, Ghana  is in compliance  with the minimal  requirements of article 5, paragraph 1 and article 8, paragraph 1of  the  AU Convention, which requires states parties  to either criminalize it, or provide  assistance and cooperate with other states  making request , it is non-compliant  with article 20 of the UNCAC , which contains no option other than criminalise illicit enrichment, " he stated.
Stressing that, anyone found to be possessing unexplained wealth must be investigated by the anti-corruption agencies as pertained in the AU Convention of which Ghana is a signatory.
Adding that in order to win the war against corruption there is the need to criminalize illicit enrichment as a corruption offence.
On Money Laundering  
This he said, in terms of Ghana's obligations under Article6 of the AU Convention, the analysis show that Ghana is in full compliance. The Anti-Money Laundering  Act , 2007(Act749) as amended by  Act 874,criminalises  money laundering and  has gone further to establish the FIC to assist in the implementation of the Act, something not provided for by article 6 of the AU Convention.
Confiscation and Seizure
On confiscation and seizure of the proceeds and instrumentalities of corruption, Mr. Ayamdoo noted that Ghana is compliant in terms of the AU convention.
 However, in terms of compliance with the Financial Action Task Force (FATF) standards, there was no evidence policyor documents to demonstrate that recovering the proceeds of crime is an institutionalized policy objective within the criminal justice system.
Mr. Ayamdoo stressed that there is also no evidence that confiscation is being pursued and monitored by law enforcement agencies.
According to him, judges and prosecutors do not focus enough on confiscation either as a goal or an integral part of the mechanisms available to deprive criminals of their illicit proceeds.
Adding that Ghana lacks a comprehensive mechanism for managing illicit wealth frozen, seized or confiscated.
However,Mr. Ayamdoo gave the following salient  recommendation:
 By urging the government to urgently pass the Right to Information (RTI) bill to deepen accountability approach by the citizens.
This he said, government should also endeavour to speed up reforms in asset declaration to curtail anticipatory declarations and further expand the coverage to include other key public officials.
 Adding that, the government must nominate one lead institution responsible for ensuring reporting of the implementation of the AU convention.
According to him, convention contains strong provisions that could go a long in solving corruption challenges across the continent.
 The AUCPCC is shared roadmap for states to implement governance anti-corruption policies and systems on national and regional level.
However, resolution is the only feasible if individual countries adopt and implement these provisions nationally.
The workshop brought together thirty (30) media practitioners from the various media (public and private) and CSOs with focus on anti-corruption and governance issues. 
  And also, with the aim of creating a platform with a clear road map created for media actors to identify and discuss key priority areas for advocacy to support national level implementation of anti -corruption commitments of the Government of Ghana under the AUCPCC. 
Isaac Kofi Dzokpo/newsghana.com.gh