GII ELECTS NEW BOARD CHAIR AND VICE
14 February 2023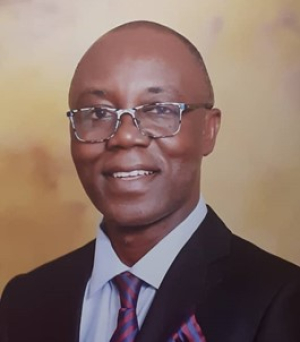 GII
ELECTS
NEW BOARD CHAIR AND
VICE
Ghana Integrity Initiative (GII), the National Chapter of Transparency International wishes to announce to the general public that, in keeping with the  principles of good governance and accountability, has elected Rev. Dr. Emmanuel Kwabena Ansah as the organization's new Board Chair. This took place during the 2022 4th Quarterly Board of Directors meeting on December 22, 2022 and was approved by the 11th Annual Membership Meeting (AMM) of GII held on February 3, 2023.
Rev. Dr. Emmanuel Ansah takes over from the immediate past Board Chairperson, Mrs. Elsie Bunyan who has served on GII's Board since 2013 and as a Board Chairperson since December 2019.
Rev. Dr.  Emmanuel Ansah has been a member of GII's Board since 2019. He has also served as Chairperson of GII's Board Committee on Fundraising, Programmes and Communication. He has been instrumental in advancing GII's growth by leading the organization to build strong strategic partnerships and collaborations with key international and national organizations and stakeholders in the promotion of ethical behavior and the fight against corruption.
Rev. Dr.  Emmanuel Ansah was ordained as a Minister in August 1994 and he is the Convener/Executive Director of Kingdom Equip Network, a Christian governance organization based in Accra. He is also the Deputy General Overseer of the Covenant Family Community Church. Rev. Dr.  Ansah is the Ghana National Director of the Geneva-based Globethics.net which promotes ethics in  higher educational institutions. He has previously served on the Board of Scripture Union Ghana and currently, he is a member of the Interim Board of the Prisons Fellowship International, Ghana.
Rev. Dr. Ansah holds a Doctor of Ministry Degree in Church Planning and Pastoral Management.  He is a leading ecumenical voice in church governance and church-state relations in Ghana. He served as the General Secretary of the National Association of Charismatic and Christian Churches (NACCC) -Ghana from 1999 to 2010 and has authored several books. He is married to Professor Evelyn Korkor Ansah and they are blessed with three children.
Dr. Samuel Tetteh Kwashie, a Medical Practitioner by profession, has also been elected and approved to serve as the Vice Chair of GII.  He replaces Mr. David Nii Ayi Hammond Esq., the immediate past Vice Chair. Dr. Samuel Kwashie is a Public Health Consultant and a Fellow of the Ghana College of Physicians and Surgeons. He is also a Fellow of the Chartered Institute of Human Resource Management Ghana and a former Executive Member of the Institute's National Governing Council. Dr. Samuel Kwashie has been a member of GII's Board since 2019.
Dr. Samuel Kwashie worked with the Ministry of Health/Ghana Health Service in clinical and various management positions as a Medical Officer, Medical Superintendent, District Director of Health Services, Deputy Director (Public Health), and Regional Director of Health Services. He also served as a World Health Organisation (WHO) Consultant to the Ghana Health Service and later, to the Ministry of Health.
New Board Members approved by the organization's 11th AMM are Ms. Nana Ama Inorley Andoh (Lawyer), Ing. Stephen Duodu (Engineer, Accountant, and Lawyer), Mr. Isaac Kwabena Kakpeibe (Adminstrator) and Mr. Henry Kwasi Prempeh-Eck, former Director of Legal education and the Ghana School of law.
Other members of the Board are Mr. Richard Ntim, Chief Internal Auditor at Ghana Grid Company Limited, Mr. Francis Bichnord Komla Asong, a Social Worker and the Executive Director of VOICE Ghana, and Dr. Cynthia Sallah, a Chartered Accountant, Senior Manager, and Head of the Practice Management Unit of KPMG Ghana.                                        
GII congratulates the new leadership and wishes them a successful tenure and also thanks Mrs. Elsie Bunyan and all retiring Board Members including Mr. David Nii Ayi Hammond Esq., Dr. Rose Mensa-Kutin and Dr. Francis Adzei for their hard work and exemplary leadership.